Cloud Security Specialist
SecWise staat voor een team van gespecialiseerde cloud cyber security specialisten. Daarbij werken we steeds met de laatste technologieën.
Word jij ook een 'SecWiser'?
We zijn op zoek naar mensen die dezelfde drive hebben voor het vak als wij: must-love-Microsoft-cloud-security-platform.
Als Microsoft cloud security specialist ga je met onze klanten aan de slag voor risico en security analyses, het design en de implementatie van geavanceerde security oplossingen gebaseerd op de Microsoft cloud security portfolio. Je wordt betrokken bij projecten in verschillende sectoren waarbij je deel uitmaakt van een dynamisch team maar ook zelfstandig een klant kan begeleiden.
Je hebt een diploma in IT (Bachelor of Master) of gelijkwaardig door ervaring
Je hebt minstens twee jaar ervaring met security oplossingen
Je bent Microsoft Certified of bereid om een opleiding te volgen
Je hebt kennis van

Microsoft Azure Active Directory, AAD-Connect, CloudApp Security, Azure Advanced Threat Protection en Azure Information Protection
Windows Defender Advanced Threat Protection of gelijkaardige advanced threat-protection software
Office 365 Security, Advanced Threat Protection, DLP en Information Protection

Je bent vertrouwd met cloud-authenticatie protocols, zoals Windows Hello, OAuth, SAML, Open-ID Connect,…
Je hebt bewezen ervaring in het design & implementeren van security oplossingen, anti-malware technologie op enterprise level en security monitoring tools
Je bent vloeiend in het Nederlands en Engels, Frans is een extra troef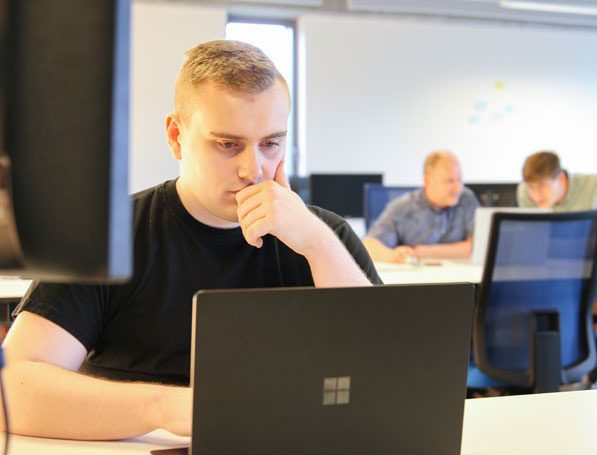 Bij SecWise delen we de filosofie dat werk en plezier hand in hand gaan. SecWise staat voor een open sfeer binnen een vlakke organisatie waarin we initiatief omarmen en ieders tempo respecteren. Een aantrekkelijk salarispakket met bedrijfswagen en een hele resem leuke voordelen via het Cronos Groep Care-pakket zijn evident.
Continu leren is een gegeven, want de security technologie verandert en elke klant is anders. Maar je staat er nooit alleen voor, wij ondersteunen jou in elke stap. Als consultants vormen we een team van experts die kennis delen om elkaar en elkaars klanten verder te helpen. Werken bij SecWise betekent dan ook jezelf steeds vernieuwen en een expert worden in jouw domein. Onze missie is geslaagd als we iedereen kunnen laten uitblinken in zijn of haar specialiteit.
Krijg je goesting om ons te leren kennen? Bezorg ons dan je contactgegevens, we nemen snel contact met je op.
Solliciteer voor deze job